Halloween was once a holy day to remember the dead. Over the centuries it became secularized into a holiday marked by dressing in costumes mimicking the dead and concealing our living identities. This Sunday's mass readings are a good opportunity to celebrate the original intent of remembering all souls and saints—and in doing so, revealing our relation to them.
All souls and saints are children of God, called to bring God's presence to our brothers and sisters. In this age marked by self-isolating the soul for fear of neighbors we no longer get to know, this mission of the Church is more important than ever. In Sunday's first reading (Rv 7:2-4, 9-14), the author of the Book of Revelation foresees an age when these children would reveal themselves as the saving grace of God to all who would listen:
"I had a vision of a great multitude, which no one could count, from every nation, race, people, and tongue. They stood before the throne and before the Lamb, wearing white robes and holding palm branches in their hands. They cried out in a loud voice: 'Salvation comes from our God, who is seated on the throne, and from the Lamb.' Then one of the elders spoke up and said to me, 'Who are these wearing white robes, and where did they come from?' I said to him, 'My lord, you are the one who knows.' He said to me, 'These are the ones who have survived the time of great distress; they have washed their robes and made them white in the Blood of the Lamb.'"
Then in our second reading (1 Jn 3:1-3) St. John personalizes this vision, lifting the robes of these souls to reveal their identities: It is us—if we choose to claim our calling.
"See what love the Father has bestowed on us that we may be called the children of God," St. John writes. "Yet so we are. The reason the world does not know us is that it did not know him. Beloved, we are God's children now; what we shall be has not yet been revealed."
Yet Sunday's Gospel reading from Matthew (Mt 5:1-12a) gives us the strongest clues to what will become of us, direct from Jesus' Sermon on the Mount. We are heading for blessings.
"Blessed are the merciful, for they will be shown mercy. Blessed are the clean of heart, for they will see God. Blessed are the peacemakers, for they will be called children of God."
As children of God we are called to show our neighbors the same mercy our Father shows us. We are His instruments for delivering the rest of Jesus' blessings of happiness to the poor in spirit, the mourners, the meek, the hungry and the persecuted.
The instrument we use to help spread that happiness can be as simple as a rake, as students from St. Michael's eighth grade religion class taught my neighborhood last week when they formed a flash mob of sorts to rake our yards.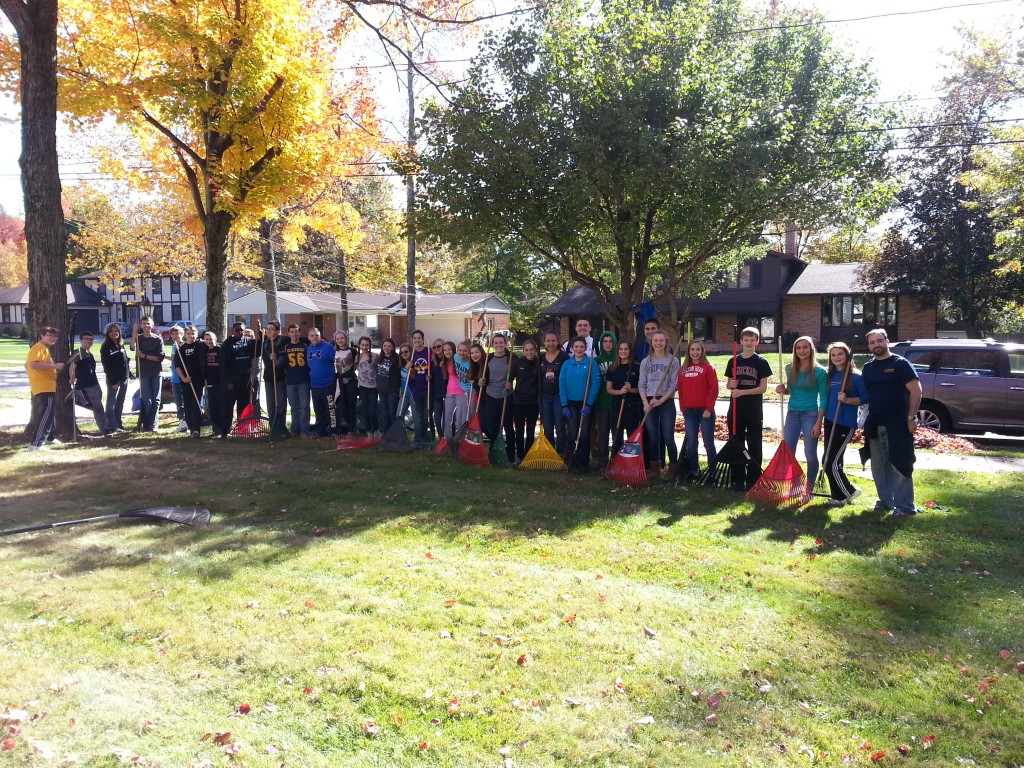 It was part of their "RACE to be Saints," RACE standing for Random Acts of Christian Example. It was truly random, as they shared their services with those who could have raked their own leaves (like me) as well as those neighbors who were widowed, alone and mourning. We are all in need of blessings like theirs, whether we need leaves raked or not. The sharing of their spirits and service was the stuff of the beatitudes, and in that sharing, they revealed the presence of God among us. What a treat!