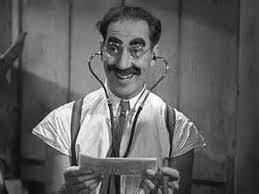 After months of exposure to the self-serving hot air rising from some of the people fighting for the U.S. presidency, this Sunday's mass readings are refreshingly Marxist. Groucho, not Karl. Groucho Marx once resigned his membership from an exclusive Hollywood Club, explaining "I don't want to belong to any club that would have me as a member!"
The Prophet Isaiah and Saints Paul and Peter were similarly hard on themselves when faced with an even more important calling: spreading the truth of God. These were among our Church's most reluctant heroes because they were keenly aware of their limitations. It was their limits that made these men so important. All humans are limited, but as is evident among our politicians, not all of us are as tuned into their own weaknesses as the heroes we celebrate this Sunday.
"Woe is me, I am doomed," Isaiah says in our first reading (Is 6:1-2a, 3-8) when faced with his calling. "For I am a man of unclean lips, living among a people of unclean lips." Then one of God's seraphim touches his mouth with a burning ember, saying "Now that this has touched your lips, your wickedness is removed, your sin purged."
Then came his calling: "Whom shall I send? Who will go for us?"
His response is a simple acceptance speech we are all invited to plagiarize: "Here I am, send me!"
Paul's guilt went far deeper than Isaiah's, making his calling an even more compelling invitation for the unworthy among us.
"I am the least of the apostles, not fit to be called an apostle, because I persecuted the church of God," he states in our second reading (1 Cor 15:1-11). "But by the grace of God I am what I am, and his grace to me has not been ineffective. Indeed, I have toiled harder than all of them; not I, however, but the grace of God that is with me."
Of the three recipients of God's grace we remember this Sunday, Simon Peter is probably most like us. He isn't graceful in words or actions, yet he yearns for and is awed by the saving grace of the Holy Spirit. In our gospel reading from Luke (Lk 5:1-11), after pulling in a net full of fish from previously unpopulated waters, this frustrated fisherman gives his own version of Isaiah's self-deprecating confession:
"Depart from me, Lord, for I am a sinful man."
Taking this as a worthy confession, Jesus reassures him:
"Do not be afraid; from now on you will be catching men."
This is a catch and release mission for which we are all called—first captivating souls in our lives who are imprisoned by sin, then releasing them to serve a more loving master. Isaiah, Peter and Paul started their missions by being brutally honest with themselves.
Groucho had something memorable and cautionary to say about that too, using one of the unspoken tenets of hypocrites in every walk of life for us to reflect on. This line should be used as a self-check system while doing our own brutal self-assessments:
"The secret of life is honesty and fair dealing. If you can fake that, you've got it made."