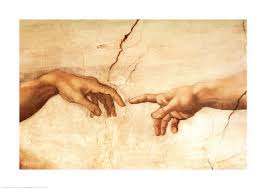 Faithful people are in a constant state of rebirth. That's one of the themes from this Sunday's mass readings. Every human being experiences birthing once. For many of us that process concluded with a smack or some other stimulus to get us breathing. Once we reach the age of reason we are called to a rebirth process that often begins with another smack. Then our labor pains begin, taking us through a life-long journey to learn and do God's will. Rebirth requires casting off all the evil or just plain useless junk that clouds our judgment. That can be inspired by some life-changing event serving as the smack that gives us our second wind.
Our first reading (Is 43:16-21) is Isaiah's account of God's freeing Israel from a past scarred by Egyptian and Babylonian captivity. In doing so He also liberated his faithful to focus on their future as a nation reborn.
Remember not the events of the past, the things of long ago consider not; see, I am doing something new! Now it springs forth, do you not perceive it? In the desert I make a way, in the wasteland, rivers.
The message: forget what enslaved you bodily and remember what frees you spiritually. Humanity's fall from grace created that prison, necessitating all kinds of laws to keep our evil tendencies caged. We became well acquainted with evil over the centuries until Christ came on the scene and exposed us to a new way of thinking. This freed us from the need for human law and all its trappings, introducing us instead to something new: our spiritual selves. Christ chose St. Paul as the preeminent example of the kind of rebirth that would open a path leading to the life originally intended for us. Here's what Paul tells the Philippians in Sunday's second reading (Phil 3:8-14):
For his sake I have accepted the loss of all things and I consider them so much rubbish, that I may gain Christ and be found in him, not having any righteousness of my own based on the law but that which comes through faith in Christ … It is not that I have already taken hold of it or have already attained perfect maturity, but I continue my pursuit in hope that I may possess it … Just one thing: forgetting what lies behind but straining forward to what lies ahead, I continue my pursuit toward the goal, the prize of God's upward calling, in Christ Jesus.
With Christ's arrival more than 2,000 years ago, everything he taught humanity was not only new but strange. Turn the other cheek to those who strike us? Give away our possessions and follow him? What's in these things for us? Revenge feels good. Creature comforts give us security. You can't hold faith in your hand or swallow it like a pill.
That's true. You have to let faith take hold and swallow you. That rebirth process is so challenging for those who are afraid to surrender themselves to it that it still makes news centuries later when someone does. Every once in a while we'll see stories in the newspaper or on TV about someone who was robbed or whose loved one was murdered and instead of seeking revenge that person expresses forgiveness. Go back to Isaiah's reading: "See I am doing something new!"
Then go to Sunday's gospel reading from John (Jn 8:1-11) where Jesus teaches a collection of scribes and Pharisees to see something new in themselves. They bring a woman to Jesus whom they caught in an act of adultery. They're ready to take the law into their own hands and stone her. After all, Moses said this was okay, right?
"Let the one among you who is without sin be the first to throw a stone at her," Jesus advised. … "And in response, they went away one by one, beginning with the elders."
Elder, and by God's grace, a bit wiser. May we all take their rebirth to heart and live righteous lives to the extent that such behavior is no longer newsworthy but still notable to the One who wants us to be worthy by design.