It's easy to believe that Hollywood detests anything to do with religion, but it's hard not to notice their tendency to imitate scripture by using parables to tell the truth about humanity.  A new movie, "Arrival," is a good example. Having just seen the film, and after studying this Sunday's Mass readings for the second week of Advent, I was amazed how their themes resonated with each other.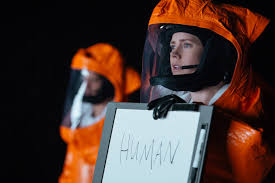 On its surface Arrival is the tale of aliens visiting our planet for a purpose that remains mysterious throughout the movie. But what comes through loud and clear is, in the process of the authorities figuring out that purpose, how alienated from each other humanity's cultures have become. The space aliens set up camp in 12 strategic regions around the world. It's obvious they intend to communicate with these different cultures of humanity to either extract or to share some universal wisdom that's vital to the future—theirs and ours. Why 12 landing sites?
It may be coincidental, and I may be reading too much into the story in light of Sunday's first reading, but here goes. That reading is taken from Isaiah (Is 11:1-10) , and tells of the fruits to come forth "from the stump of Jesse." Jesse was a descendant of Judah, one of the twelve tribes of Israel. From Jesse came David and of course Jesus—"the bud that blossomed," as our reading from Isaiah implies. From that blossom will come peace, Isaiah prophesied:
Then the wolf shall be a guest of the lamb, and the leopard shall lie down with the kid; the calf and the young lion shall browse together, with a little child to guide them. The cow and the bear shall be neighbors, together their young shall rest; … There shall be no harm or ruin on all my holy mountain; for the earth shall be filled with knowledge of the LORD.
Back to our movie. Peace of this kind is not plentiful on earth as the twelve regions of the earth depicted in Arrival compete to communicate with these alien pods. The natural solution would be for the wisest among these twelve regions to collaborate with each other, but distrust of each other's motives eventually leads to virtual walls being built between these twelve regions of the world. This can't be good. The aliens communicate in weird symbols, and the top linguists within each of these regions manage to attribute diverse meanings to each one of these symbols. One that is interpreted as "tool" by the North American region is interpreted as "weapon" by the Chinese. That leads to a panic among the 12 regions that one of them may start a war with the aliens by attacking them before the aliens can take the first offensive action with their "weapon."
Sounds like a formula for the end of the world, doesn't it? But this movie's revelation to me was how much of St. Paul's message to the Romans (Rom 15:4-9) also comes through.
As Paul's letter states in our second reading, there's good reason for hope:
Whatever was written previously was written for our instruction, that by endurance and by the encouragement of the Scriptures we might have hope. May the God of endurance and encouragement grant you to think in harmony with one another, in keeping with Christ Jesus, that with one accord you may with one voice glorify the God and Father of our Lord Jesus Christ.
Back again to Arrival. When all seems hopeless for any breakthrough of collaboration between these twelve regions of the world in communicating with these aliens, the secret code is broken and we discover that these outer-space beings think and communicate in a structure with no beginning and no end—in a circular pattern, not the linear way we humans think and communicate. In this way, they learn from past, present and future, thus constantly growing in wisdom. A linguist on the North American team latches onto this secret and thus is able to break down the barriers separating the 12 regions in dealing with these "aliens." The bottom line seems to be that "alien" is a word that best describes humanity's current relations with each other, not this new source of wisdom that came down to visit earth.
The source of all wisdom is what John the Baptist advises his followers to watch for in our gospel reading (Mt 3:1-12). It will not come through him or from any of the branches of a biblical family tree, but from the highest realm of the Holy Spirit. Therefore, no group with earthly boundaries should feel entitled to an inheritance just because they carry the name of a respected region. They must prove their worthiness as God's creatures, as John scolds those who seek salvation through his baptism of water.
"You brood of vipers! Who warned you to flee from the coming wrath? Produce good fruit as evidence of your repentance. And do not presume to say to yourselves, 'We have Abraham as our father.' For I tell you, God can raise up children to Abraham from these stones. Even now the ax lies at the root of the trees.
What's the takeaway from this little movie review? That what is alien in our universe doesn't come from outside us, but from within our own hearts. Once the Holy Spirit is planted there and takes root, our job is to cultivate it and let it flourish beyond all boundaries so that wisdom overtakes the entire world. That's salvation through human relations, not alien invasion.
–Tom Andel