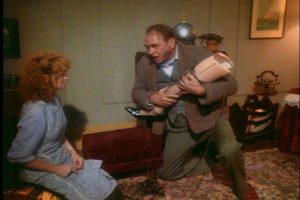 The running gag throughout A Christmas Story (the movie about a boy and his coveted b-b gun) is how Ralphie keeps leaving little clues for his parents about what he wants for Christmas.  He's afraid his wish would never be granted if he came right out and asked mom and dad for it.  This Sunday's liturgy reminded me of this theme, except it's our Father who keeps prodding his reluctant children to ask for what we want.  In our first reading (Is 7:10-14) it's Ahaz, King of Judah, who needs divine help to save his land from enemies, but instead of giving in to Isaiah's plea to ask for this aid, he comes up with a lame strategy of his own.
"I will not ask! I will not tempt the LORD!" Then Isaiah said: Listen, O house of David! Is it not enough for you to weary people, must you also weary my God? Therefore the Lord himself will give you this sign: the virgin shall conceive, and bear a son, and shall name him Emmanuel.
As Isaiah learned from Ahaz, our faith is too often restricted to what we perceive as sure things—things we believe our scheming alone can achieve. Isaiah offers us communion with a personal God whose gift is faith in something greater than ourselves. That name, Emmanuel, is a short but sweet way of encapsulating that gift—which the angel of God did for Joseph, the earthly father of our Lord. As Sunday's gospel reading shows (Mt 1:18-24), this angel repeated the sign Isaiah gave Ahaz. Through this angelic intervention Joseph would then understand his own place in God's granting mankind's unspoken desire:
Behold, the virgin shall conceive and bear a son, and they shall name him Emmanuel, which means "God is with us."
But the angel added some extra instructions to help seal the deal with Joseph:
"She will bear a son and you are to name him Jesus, because he will save his people from their sins."
To do that, God not only had to be one with us, but one of us. And because he did that in the person of Jesus, he also understood humanity would always be tempted to imitate people like Ahaz in their reluctance to place complete faith in God's desire to answer prayers. Maybe that's why, during this Sunday's liturgy, we hear:
"The virgin shall conceive, and bear a son, and shall name him Emmanuel," …
… not once, not twice, not thrice, but four times if you add the gospel acclamation and the communion antiphon to the old and new testament proclamations.
But as he explains in his letter to the Romans (Rom 1:1-7), Paul has been called to help mankind participate in a gift exchange with Our Father—offering something Emmanuel both wants and needs:
… the obedience of faith, for the sake of his name, among all the Gentiles, among whom are you also, who are called to belong to Jesus Christ; to all the beloved of God in Rome, called to be holy.
Holiness is achieved through constant dialog with Our Father. It may be in words, actions or both, but it doesn't have to be as hard as we always make it. After all, he's here with us. The question is, are we with Him? That's hard to answer if your faith's as fragile as a leg lamp.
–Tom Andel