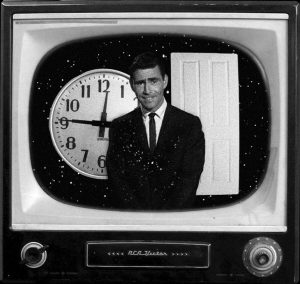 In the early 1960s, writer Rod Serling used his Twilight Zone TV series to tell enlightening parables for his time. They often had a shocking twist at the end. If Serling were alive today, this Sunday's mass readings might have given him the raw materials for an important episode for this generation.
A popular editorial device for newspaper editors over the last century or two has been the meeting between Old Father Time and Baby New Year to symbolize the passing of another year and the beginning of a new one. The old year is on his way out and the New Year is about to take over for him as the world's chronicler and ambassador to God. Sunday's first reading from the Book of Numbers (Nm 6:22-27) includes a blessing God gave Moses for the Israelites' benefit. It's easy to imagine, during an orientation session for the New Kid, Father Time giving the young replacement a blessing to pass on to humanity: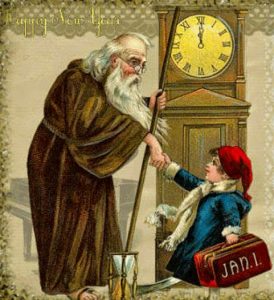 The LORD bless you and keep you! The LORD let his face shine upon you, and be gracious to you! The LORD look upon you kindly and give you peace!"
After memorizing this blessing, imagine the young trainee sitting down with St. Paul to learn more about his relationship with humanity and the inheritance he's expected to carry with him at all times for possible distribution—if notified that the world's population is ready for it. That readiness would mean humanity's acceptance of its connection with God their Father and its own freedom from the limitations of their flesh. "But how will I recognize that readiness if it happens on my watch?" the New Year asks. "What proof will I have?"
The answer is taken right out of Paul's letter to the Galatians (Gal 4:4-7), this Sunday's second reading:
As proof that you are sons, God sent the Spirit of his Son into our hearts, crying out, "Abba, Father!" So you are no longer a slave but a son, and if a son then also an heir, through God.
From that meeting with St. Paul, Young New Year is escorted into a beautiful sitting room where Blessed Mother Mary is poring through a memory album of her son's life, from birth through adulthood, as Sunday's gospel reading from Luke (Lk 2:16-21) tells us she is prone to doing around the time of his birthday:
Mary kept all these things, reflecting on them in her heart.
Our reading also reflects the joy that early witnesses to this birth took away from the event and shared with everyone they knew.
Then the shepherds returned, glorifying and praising God for all they had heard and seen, just as it had been told to them.
Unfortunately, their spreading this good news did not change the hearts of many in power, whose earthly holdings were valued more highly than any iffy inheritance implied by these sheep tenders. The fact that that attitude has survived to this day is weighing heavily on Mary's mind. Her heartache was foreseen by Simeon when Mary and Joseph presented their boy at the Temple (LK 2:34-35).
"Behold, this child is destined for the fall and rise of many in Israel, and to be a sign that will be contradicted; (and you yourself a sword will pierce) so that the thoughts of many hearts may be revealed."
Kid New Year concludes his orientation with a resolution to improve on the work of his predecessors. During his exit interview with Father Time, the old man tells the kid to mark January 1 of the following year in his appointment book for a meeting with his successor, where he will prepare a new kid to inspire humanity's next 365 days of ethical evolution.
"How will I know this successor? 2016 asks.
Suddenly the old man gestures toward the one reading this and both he and the kid are staring at you. You look around then down and see you're wearing a banner across your chest, reading 2017.
You wake up and realize it was only a dream. Then there's a knock on the door. You look at your brand new calendar. New Year's Day. You open the door and see an old man wearing a 2016 banner.
Happy, New Year Baby?
Happy New Year, Baby!
–Tom Andel