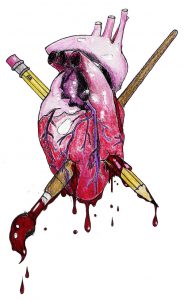 Some of our greatest masters of the arts were inscrutable. Their mystery is displayed in their works and by their lives. Such strange manners contributed to our fascination with their art. Salvador Dali, Picasso, Grandma Moses …all had mysterious ways about them that made their art appealing. Some suffered from debilitating infirmities, which they used to express what was in their soul.
In Maude Lewis' case, for example, her crippling rheumatoid arthritis was as much a part of her art as the media and subjects she chose. In fact if you didn't know who and what shaped her output, you might think Maudie's was the work of a five-year-old. It was her spirit that made her work so desirable—a fact that was dramatized in a recent biopic.  An artist's soul tends to transcend their brokenness, and in doing so, change the lives of those around them. That explains the art of God—the ultimate inscrutable creator.
St. Paul described the spirit of God best in his letter to the Romans, from which we take this Sunday's second reading (Rom 11:33-36):
Oh, the depth of the riches and wisdom and knowledge of God!  How inscrutable are his judgments and how unsearchable his ways! For who has known the mind of the Lord
Our Creator's masterpiece is his Kingdom, and His chosen media are his people. He uses each of us to shape and highlight each other's best qualities. The museum for his art is in humanity's greatest literature, especially our holiest writings. For example, in the Holy Bible are the collected works of prophets and saints whose broken humanity drove them to achieve and express the spirit of God in the books and letters bearing their names.  Careful readers can even spot the foreshadowing our Creator uses throughout the expressions of his spirit as displayed by his artists. In this Sunday's first reading (Is 22:19-23), one of God's greatest prophets, Isaiah, introduces us to Eliakim, whose name means "Resurrection of God." Eliakim's replacement of Shebna gives us an inkling of the coming of God's greatest expression of transcendent humanity: Jesus Christ.
Thus says the LORD to Shebna, master of the palace: "I will thrust you from your office and pull you down from your station. … I will place the key of the House of David on Eliakim's shoulder; when he opens, no one shall shut, when he shuts, no one shall open. I will fix him like a peg in a sure spot, to be a place of honor for his family."
Jump ahead to the New Testament and find this Sunday's gospel reading from Matthew (Mt 16:13-20) in which God the Son entrusts the keys that access His Father's Kingdom to one of his more broken disciples: Simon Peter. As with any great artist, it is how our Creator's spirit overcame Peter's simplicity that impressed Jesus:
"But who do you say that I am?,"  Jesus asked him. Simon Peter said in reply, "You are the Christ, the Son of the living God."  Jesus said to him in reply, "Blessed are you, Simon son of Jonah.  For flesh and blood has not revealed this to you, but my heavenly Father.  And so I say to you, you are Peter, and upon this rock I will build my church, and the gates of the netherworld shall not prevail against it.  I will give you the keys to the kingdom of heaven.
The Bible is a record of how our broken humanity channels the spirit of God to inherit the Kingdom of our Creator. We the living are called to carry on with the artistry of the prophets and saints. Our media are the souls with which we surround ourselves, and we shape each other by how we channel the inscrutable spirit of our Creator.
–Tom Andel