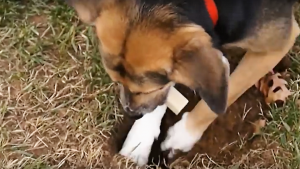 We can all learn a valuable lesson about intrinsic value from our canine friends. Think about how dogs instinctively retrieve bones they've buried. They sense what a bone can mean to their survival—so they'll not only find it a secret subterranean hiding place, but they'll remember its location. We humans also tend to bury assets, but not until we believe the value of those assets has been spent; once buried we tend to forget all about them. That describes the trajectory of too many marriages. The love we treasure when it's new tends to get used up then buried over time. That's why both husbands and wives would do well to meditate on each other's intrinsic values as they also think about this Sunday's first reading from Proverbs (Prv 31:10-13, 19-20, 30-31) :
When one finds a worthy wife, her value is far beyond pearls. Her husband, entrusting his heart to her, has an unfailing prize. … Charm is deceptive and beauty fleeting; the woman who fears the LORD is to be praised. Give her a reward for her labors, and let her works praise her at the city gates.
Married couples who weather the passage of seasons together are rewarded with an ever-growing understanding of the intrinsic value of their love. Though it may seem buried at times, they know exactly where to find it when an existential threat darkens their lives. Maybe that's why older couples whose gold and silver anniversaries have come and gone seem unfazed by the daily drumbeat of bad news that tends to drive younger couples apart, whether for romantic, economic or even political reasons. St. Paul's letter to the Thessalonians which we read from this Sunday seems written to them, too (1 Thes 5:1-6).
Concerning times and seasons, brothers and sisters, you have no need for anything to be written to you. For you yourselves know very well that the day of the Lord will come like a thief at night. … But you, brothers and sisters, are not in darkness, for that day to overtake you like a thief. For all of you are children of the light and children of the day.
We spend our lives instinctively attracted to the light of truth, but at some point, fear that we've buried our own values to the extent that they're irretrievable may make darkness a more comfortable place to stay. However, as Jesus implies in his parable of the talents, (this Sunday's gospel reading, Mt 25:14-30), we can only be judged worthless if we don't try to access and invest our buried assets.
"A man going on a journey called in his servants and entrusted his possessions to them. To one he gave five talents; to another, two; to a third, one–to each according to his ability. Then he went away. Immediately the one who received five talents went and traded with them, and made another five. Likewise, the one who received two made another two. But the man who received one went off and dug a hole in the ground and buried his master's money. … [When the Master returned he celebrated the profits made by the two enterprising servants.] Then the one who had received the one talent came forward and said, 'Master, I knew you were a demanding person, harvesting where you did not plant and gathering where you did not scatter; so out of fear I went off and buried your talent in the ground. Here it is back.' His master said to him in reply, 'You wicked, lazy servant! … Should you not then have put my money in the bank so that I could have got it back with interest on my return?"
As sad as that ending is, we really needn't fear that it will be ours. Dig into your soul for any assets you might have buried there! Our lives are meant to be veritable archeological expeditions and our finds may light the way for the future of others—and possibly impress their dogs.
See below to watch Albus set an example!
–Tom Andel