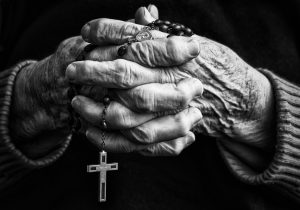 Whether we pray it or not, our lives can be like the mysteries of the rosary—joyful with glimpses of sorrow or sorrowful with hints of joy. Much of that depends on our own spiritual health and that of our families. For example, when families lose a loved one during the Christmas holidays, the sorrow would be unbearable without the consolation of relatives and friends to share that pain. But if there are fractures within and between family relationships, the pain of loss can be amplified. This Sunday's mass celebrating the Holy Family of Jesus, Mary and Joseph offers the standard by which both the joyful and the sorrowful can compare their situations and fine-tune their spirits.
Our first from the Book of Sirach (Sir 3:2-6, 12-14) offers an old-fashioned but relevant prescription to accentuate the joy and ameliorate the sorrow in the mysteries of our lives:
God sets a father in honor over his children; a mother's authority he confirms over her sons. Whoever honors his father atones for sins, and preserves himself from them. When he prays, he is heard; he stores up riches who reveres his mother. Whoever honors his father is gladdened by children, and, when he prays, is heard. Whoever reveres his father will live a long life; he who obeys his father brings comfort to his mother.
Many with injured families might say, "Sure, easier read than done." Whether their fractures were caused by harshly tossed words or actions, or by the onerous weight of indifference, the only hope for healing starts in one's self. Paul told the Colossians as much in our second reading for this Sunday (Col 3:12-21):
Brothers and sisters: Put on, as God's chosen ones, holy and beloved, heartfelt compassion, kindness, humility, gentleness, and patience, bearing with one another and forgiving one another, if one has a grievance against another; as the Lord has forgiven you, so must you also do. And over all these put on love, that is, the bond of perfection.
Whether you identify more with the joyful or sorrowful mysteries of the rosary, latch onto the hope that they commemorate. Our gospel reading (Lk 2:22-40) recalls the fourth joyful mystery: The Presentation, where Mary and Joseph brought their son to the temple and showed Simeon that the salvation of his people had entered the world.
He took him into his arms and blessed God, saying: "Now, Master, you may let your servant go in peace, according to your word, for my eyes have seen your salvation, which you prepared in sight of all the peoples, a light for revelation to the Gentiles, and glory for your people Israel."
But Simeon leavened his message of joy for Mary with a portent of sorrow:
"Behold, this child is destined for the fall and rise of many in Israel, and to be a sign that will be contradicted —and you yourself a sword will pierce— so that the thoughts of many hearts may be revealed."
Mary's piercing would coincide with the piercing of her son, as detailed in the sorrowful mysteries, but Jesus himself offered his mother the consolation of familial love when he passed his sonship on to his beloved disciple, as reported in the gospel of John:
When Jesus saw his mother* and the disciple there whom he loved, he said to his mother, "Woman, behold, your son." Then he said to the disciple, "Behold, your mother." And from that hour the disciple took her into his home.
The holidays can bring either sorrow or joy. Maybe both. Whatever shows up at your door, hope can be found in the love of family. If you can't find it in others, look for it in yourself—then welcome everyone into the home of your heart. The bond that forms there could be the string that unites your life's mysteries into a rosary of hearts.
–Tom Andel