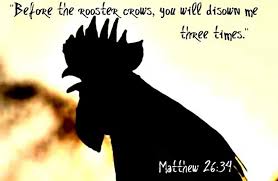 Jesus' pet peeve about humanity must have been our denial–denial of our sins, of his Father, and of his relationship to his Father. Even his number-one man, Peter the Rock, was a frequent target for correction. While Peter was still smarting from denying three times he even knew Jesus, the resurrected Master asked him three times if he loves him—a reminder of Peter's weakness that must have stung.  So for this Sunday's first reading from Acts (Acts 3:13-15, 17-19) we hear Peter lecturing the people who yelled "crucify him" in response to Pilate's question about what should be done with Jesus. Wonder if Peter was still in the process of getting over his own denial of the Master when he said:
"The God of Abraham, the God of Isaac, and the God of Jacob, the God of our fathers, has glorified his servant Jesus, whom you handed over and denied in Pilate's presence when he had decided to release him. You denied the Holy and Righteous One and asked that a murderer be released to you."
Guess by then Peter knew denial when he saw it. It's so easy to fall into that trap of hypocrisy then suffer the consequences because you learned the difference between right from wrong from the Master of Truth. But this was a new Peter, and just as he became the role model for overcoming this weakness in ourselves, John—who stood with Mary as the lone disciple at the foot of the cross—taught us how to live in strength by living in truth. Here's John's lesson from Sunday's second reading 1 (Jn 2:1-5a):
Those who say, "I know him," but do not keep his commandments are liars, and the truth is not in them. But whoever keeps his word, the love of God is truly perfected in him.
Living in truth requires opening our mind to God's voice as we hear it in scripture. While many strain to hear God speak to them via divine vocal cords, they're ignoring the chords of His truth resounding throughout the Old and New Testaments as they echo in our daily lives. By giving us life, God opened our minds to His voice—just as Jesus did for his disciples before departing, as Sunday's gospel recalls (Lk 24:35-48):
Then he opened their minds to understand the Scriptures. And he said to them, "Thus it is written that the Christ would suffer and rise from the dead on the third day and that repentance, for the forgiveness of sins, would be preached in his name to all the nations, beginning from Jerusalem. You are witnesses of these things."
Peter learned a hard lesson in repentance. To repent is to regret one's sins, after all, so Peter was the perfect choice to take the lead in spreading the good news that God is eager to forgive. As he concludes in our first reading: "Repent, therefore, and be converted, that your sins may be wiped away."
And that we may repair the damage we do to each other.
–Tom Andel