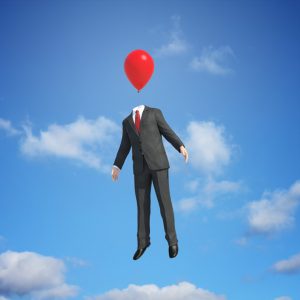 Before his Ascension, Christ promised his apostles the gift of the Holy Spirit. That gift was the power behind their Acts. But imagine if they had received that gift in their pre-Pentecost state—when their egos and wish for the comforts of their master's immediate victory were in full force. They were like children at Christmas, looking for what Santa would bring them, as The Solemnity of the Ascension's first reading implies (Acts 1:1-11):
"Lord, are you at this time going to restore the kingdom to Israel?"
Their Master had to bring them down to earth, because they weren't ready to ascend with him.
He answered them, "It is not for you to know the times or seasons that the Father has established by his own authority.
With that, he arose from their sight and still far above their understanding. The reading describes them in a way we can imagine ourselves looking up to heaven hoping for inspiration to strike:
While they were looking intently at the sky as he was going, suddenly two men dressed in white garments stood beside them. They said, "Men of Galilee, why are you standing there looking at the sky?
In other words—"Stop standing around looking up in the air. You have important work to do on this earth."
This work would be tough and often fraught with both extremes of tedium and danger. But whatever the situation called for, their faith would help them succeed. The biggest challenge for all new Christians of that and any time would be keeping their egos out of the way. And as someone whose ego was once his Master, Paul knew the dangers his people would face from within. That's why, in one of the Ascension's second readings, from Paul's letter to the Ephesians (Eph 1:17-23), he grabbed them by those egos to keep them grounded.
Brothers and sisters, I, a prisoner for the Lord, urge you to live in a manner worthy of the calling you have received, with all humility and gentleness, with patience, bearing with one another through love, striving to preserve the unity of the Spirit through the bond of peace … But grace was given to each of us according to the measure of Christ's gift.  And he gave some as apostles, others as prophets, others as evangelists, others as pastors and teachers, to equip the holy ones for the work of ministry, for building up the body of Christ.
It would be easy for people so gifted to begin feeling their heads getting bigger as well—and to feel somehow responsible for the great things they would do in God's name. Mark's version of the words Christ used before ascending are included in this gospel reading (Mk 16:15-20), and they are pretty dramatic:
"These signs will accompany those who believe: in my name they will drive out demons, they will speak new languages. They will pick up serpents with their hands, and if they drink any deadly thing, it will not harm them. They will lay hands on the sick, and they will recover."
However there have always been many instances when so-called believers, testing God's promise, took up snakes to show off their power and mastery—and were bitten by their egos as well as their snakes. In her writings, St. Teresa of Avila cited Simeon as a model of inspiration, recalling the Presentation of the Lord. Simeon's Pentecost came decades before the disciples experienced theirs. His came when he first saw the swaddled baby Jesus in his parents' arms. Simeon had no grand expectations for how God's Kingdom would come through this infant—only that it would. Ruth Burrows, author of "Interior Castle Explored," about St. Teresa's teachings, explains what we can learn from this close encounter in the Temple:
"It was God Simeon wanted, not himself, and therefore he did not dictate the terms on which he would welcome him; he was ready to accept the Lord however he chose to come. Therefore he was able to recognize Jesus for what he was. He was perfectly satisfied, his life was fulfilled, the Kingdom was his. Oh, the scandal of ordinariness!"
Our egos don't easily accept ordinary. But if Simeon could recognize our salvation as it was wrapped in swaddling clothes, maybe we modern-day believers can find hope in all the ordinary ways Christ presents himself while we're still anchored to this earth.
–Tom Andel