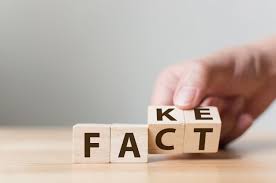 "Fake news" is the cliché of our current political environment. But as a concept fake news is as old as scripture. Matthew described its spread in his gospel account of Christ's resurrection (Sunday's gospel reading). The guards posted at Christ's tomb—who somehow missed its occupant's exit—were instructed to bear false witness against the good news that Jesus actually did what he said he'd do: rise from the dead (MT 28:11):
[The] elders … gave a large sum of money to the soldiers, telling them, "You are to say, 'His disciples came by night and stole him while we were asleep. And if this gets to the ears of the governor, we will satisfy [him] and keep you out of trouble."…
How political of them! This fake news may have filtered into the disciples' thoughts–even after hearing the testimony of their friend Mary Magdalene that the Master had indeed risen and given instructions about where to meet up with him (Mt 28:16-20).
… The eleven disciples went to Galilee, to the mountain to which Jesus had ordered them. When they all saw him, they worshiped, but they doubted. Then Jesus approached and said to them, "All power in heaven and on earth has been given to me. Go, therefore, and make disciples of all nations, baptizing them in the name of the Father, and of the Son, and of the Holy Spirit, teaching them to observe all that I have commanded you. And behold, I am with you always, until the end of the age."
The psyches of these doubting Thomases needed to be nailed, and they needed to feel the piercing of their own hearts as made possible by their Master's promise. The command that accompanied it didn't come from a slave master, but from a Father, a Brother, and the Holy Spirit who adopts all believers into their Holy Family legacy, as Paul told the Romans (Rom 8:14-17):
For you did not receive a spirit of slavery to fall back into fear, but you received a Spirit of adoption, through whom we cry, "Abba, Father!" The Spirit himself bears witness with our spirit that we are children of God, and if children, then heirs, heirs of God and joint heirs with Christ.
This is an updated estate plan rooted in the covenant originally delivered by Moses and designed by a Father who intended it to be passed down through all generations of his family—including the one of which we are a part. We embody the spirit of this covenant and are responsible for passing its good news to the next generation. That news is as old as Deuteronomy, from which we get Sunday's first reading (Dt 4:32-34, 39-40):
This is why you must now know, and fix in your heart, that the LORD is God in the heavens above and on earth below, and that there is no other. You must keep his statutes and commandments that I enjoin on you today, that you and your children after you may prosper, and that you may have long life on the land which the LORD, your God, is giving you forever."
That property is the Kingdom of God, and it's within all who believe. This good news can only be deemed fake if we fail to live its truth.
–Tom Andel