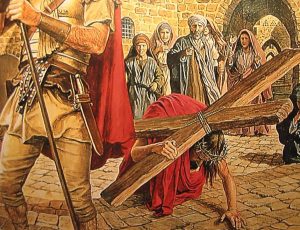 Cops are often criticized for trying to play God. Most good cops try to avoid that impression, but they can't help relating to God—or at least to His son. One veteran cop I knew demonstrated that by his seating choice in church: near the ninth station of the cross, where Jesus falls for the third time under the weight of his cross.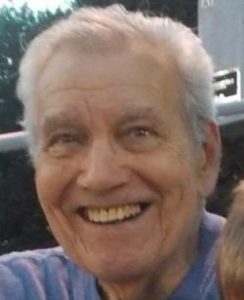 The last time I saw this cop in church was at his funeral a couple weeks ago. Tony Appenzeller, retired police chief of my home town, Independence, Ohio, was eulogized for the many important roles he played in people's lives, including husband, father, grandfather, brother, uncle and friend. At no time was God mentioned as one of his roles, but as Tony proved during his lifetime, a good cop must emulate Jesus by repeatedly getting up after falling under the weight of the crosses his job presents.
This Sunday's mass reminds of the difference between wanting to be God and trying to emulate him. The first reading (Gn 3:9-15) takes us to Eden, where the devil has just tricked Adam and Eve into eating of the tree of knowledge.
God knows well that when you eat of it your eyes will be opened and you will be like gods, who know* good and evil," Satan tells Eve.
For that bit of trickery, humanity is still bending under the weight of the burden God laid on Adam and Eve's shoulders:
I will put enmity between you and the woman, and between your offspring and hers; he will strike at your head, while you strike at his heel."
Our living out this self-fulfilling punishment is the very reason we need police. But Tony Appenzeller's family, and all families suffering the death of a loved one, can take comfort from believing that all good and faithful human beings inherit the privilege of eternal life from the One who paid the price for our salvation. And although the Stations tell us Jesus fell three times under the weight of that payment, his example gives us the faith to continually get up as we stumble under the weight of our earthly lives, as Paul says in our second reading (2 Cor 4:13—5:1):
For this momentary light affliction is producing for us an eternal weight of glory beyond all comparison, as we look not to what is seen but to what is unseen; for what is seen is transitory, but what is unseen is eternal. For we know that if our earthly dwelling, a tent, should be destroyed, we have a building from God, a dwelling not made with hands, eternal in heaven.
Laying down one's life to save others is part of a police officer's job, and according to Jesus, that's the greatest love one can show. But just as police are often chastised for playing God, they're also accused of playing the devil's advocate for some of the tactics used in fighting humanity's criminal leanings. Sunday's gospel (Mk 3:20-35) reminds us that some people of his time equated Jesus with the enemy, too.
The scribes who had come from Jerusalem said, "He is possessed by Beelzebul," and "By the prince of demons he drives out demons." Summoning them, he began to speak to them in parables, "How can Satan drive out Satan? If a kingdom is divided against itself, that kingdom cannot stand. And if a house is divided against itself, that house will not be able to stand. And if Satan has risen up against himself and is divided, he cannot stand; that is the end of him.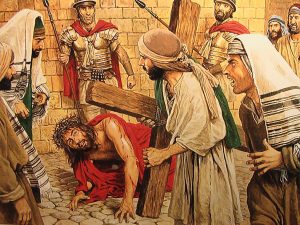 Good cops like Tony Appenzeller devote their lives to keeping cities and their citizens from falling under the weight of sin. And being sinners themselves, some fail in fulfilling their mission in the way Jesus might have done it. But we all fall for our failures, so the ninth station is a good one to park ourselves near. In fact it might not be a bad idea to imitate Tony and emulate God's Spirit as depicted in some of the other Stations of the Cross. Take the fifth, for example, where Simon of Cyrene helps Jesus carry his burden. With God's help we may be inspired to help others who've fallen under theirs.
–Tom Andel