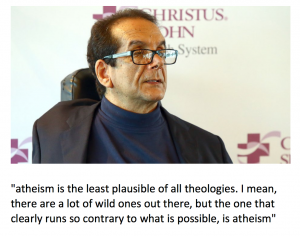 Charles Krauthammer had every reason to welcome death. As if being paralyzed from the neck down weren't enough, recently this award-winning journalist and commentator was diagnosed with inoperable cancer that left him with weeks to live. By the standards of this Modern Age's "Culture of Death," paralysis would have been enough to justify a merciful and quick end to his suffering. Yet having a dead body didn't stop Krauthammer from devoting decades to making best use of his brilliantly living mind in the "pursuit of truth and right ideas through honest debate and rigorous argument," as he put it in an open letter to readers about his situation.  Even after his original cancer diagnosis, he overcame many setbacks to regain health and maintain his admirable work ethic for as long as he could. This man taught many things during his career, but his most important lesson for all of us amidst reports of a spike in suicides around the world boils down to two words: "Love life!"
Krauthammer, Jewish by heritage but not religious, nevertheless always respected the sacred. As he faced his mortality he might even have appreciated the sacredness of life illustrated in this Sunday's mass readings. It would be good for the rest of us to keep his case in mind as we consider our faith's case for rebuilding a culture of life. Our first witness is the Book of Wisdom (Wis 1:13-15; 2:23-24). She tells us that death was never one of God's creations. It's the only thing man can truly call his own:
God did not make death, nor does he rejoice in the destruction of the living. For he fashioned all things that they might have being; and the creatures of the world are wholesome, and there is not a destructive drug among them nor any domain of the netherworld on earth, for justice is undying.
Sunday's gospel presents the case of a woman whose undying faith saves her life. We all know how hard it is to have a one-minute conversation with any doctor, let alone a specialist. So imagine what was going through this woman's mind—someone who had been suffering from the effects of disease and medical malpractice for many years. Upon hearing of the miracles accomplished by a specialist named Jesus, she seeks him out and fights her way through a crowd of like-minded afflicted souls, thinking "if I could only touch his cloak." Mark's gospel takes it from there (Mk 5:21-43 or 5:21-24, 35b-43):
She felt in her body that she was healed of her affliction. Jesus, aware at once that power had gone out from him, turned around in the crowd and asked, "Who has touched my clothes?" But his disciples said to Jesus, "You see how the crowd is pressing upon you, and yet you ask, 'Who touched me?'" And he looked around to see who had done it. The woman, realizing what had happened to her, approached in fear and trembling. She fell down before Jesus and told him the whole truth. He said to her, "Daughter, your faith has saved you. Go in peace and be cured of your affliction." 
She made a leap of faith over a chasm of logic that told her she had no chance of being cured. Now, although Krauthammer succumbed to his illness, he said he would do so with the satisfaction of knowing he lived the life he intended—"playing a small role in conversations that have helped guide this extraordinary nation's destiny." Not many of us can claim such an accomplishment, but as Paul tells the Corinthians in our second reading (2 Cor 8:7, 9, 13-15), the only greatness our Creator expects from us is generosity of spirit.
Brothers and sisters: As you excel in every respect, in faith, discourse, knowledge, all earnestness, and in the love we have for you, may you excel in this gracious act also. For you know the gracious act of our Lord Jesus Christ, that though he was rich, for your sake he became poor, so that by his poverty you might become rich. Not that others should have relief while you are burdened, but that as a matter of equality your abundance at the present time should supply their needs, so that their abundance may also supply your needs, that there may be equality.
The poor in spirit surround us. Charles Krauthammer was not one of those. He gave richly from his storehouse of wisdom, despite the kind of physical burdens that have made others crave a quick fade to black. Suicide is an easy answer. That proves its human origin. God is the author of life, and as his creations, we were made to surround the poorest in spirit with the Kingdom of God—which takes its substance from the wisdom of our immortal souls.
–Tom Andel