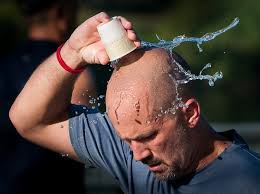 Several New Age gurus have been credited for saying "Life's a marathon, not a sprint." There's nothing new about that philosophy. It's as old as prophecy. But for some of the prophets, life was more of a marathon relay—from Moses to Elijah to Jesus to us. Prophesy was their way of life, preparing life's participants for the end of the race. Many Old Testament prophets and leaders started their race thinking they'd cross the finish line, only to find out they'd have to pass their baton to someone else. This Sunday's first reading recalls Elijah's race (1 Kgs 19:4-8).  As we look in on his progress, he's at a rest station, but he's ready to throw in the towel.
He prayed for death saying: "This is enough, O LORD! Take my life, for I am no better than my fathers." He lay down and fell asleep under the broom tree, but then an angel touched him and ordered him to get up and eat. Elijah looked and there at his head was a hearth cake and a jug of water.  … He got up, ate, and drank; then strengthened by that food, he walked forty days and forty nights to the mountain of God, Horeb.
It was on that mountain where God first appeared to Moses, and here again is God's still, small voice, coaching Elijah to pass the prophet's baton to Elisha. Eventually, on another high mountain, both Moses and Elijah would confer with Jesus as a sign to Christ's disciples that their master was the ultimate rest station before the end of the race. In fact he's the same One all the other prophets before them said was THE WAY to the finish line.  Jesus confirms this in Sunday's gospel reading (Jn 6:41-51):
Everyone who listens to my Father and learns from him comes to me. Not that anyone has seen the Father except the one who is from God; … Your ancestors ate the manna in the desert, but they died; … I am the living bread that came down from heaven; whoever eats this bread will live forever; and the bread that I will give is my flesh for the life of the world."
The transfiguration was the rest station by which Jesus prepared Peter, James and John to help humanity run the rest of THE WAY. Each generation from there has been called to pass the baton to the next. That baton is the word of God, and nobody was better than Paul at passing it through the early church so it would reach the church of the 21st century. Through his letter to the Ephesians, from which we read this Sunday (Eph 4:30—5:2), he shares the rules of the race that will get each of us to the finish line:
…be kind to one another, compassionate, forgiving one another as God has forgiven you in Christ. … Be imitators of God, as beloved children, and live in love, as Christ loved us and handed himself over for us as a sacrificial offering to God for a fragrant aroma.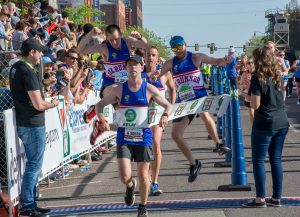 Sacrifice is built into the rest of the race, and sometimes being kind, compassionate and forgiving as Paul suggests takes more of an effort than we're prepared to expend. When that moral exhaustion happens we need to stop at the next refreshment station—which are everywhere, as Christ promised in Matthew (MAT 11:28) :
"Come to me, all you who labor and are burdened, and I will give you rest."
Pass it on.
–Tom Andel