Our headline is the title of a great Sinatra song for lovers, but it could also summarize what God wants from humanity's relationship with Him:
All or nothing at all;
Half a love never appealed to me.
If your heart never could yield to me
Then I'd rather have nothing at all.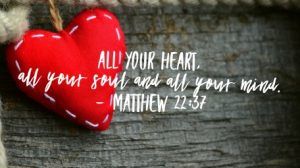 We need look no further than Paul's first letter to the Corinthians to support God's all or nothing expectations. Paul's words are so powerful they are used in weddings to inspire a couple's romantic love for each other to blossom into something greater:
If I have all faith so as to move mountains but do not have love, I am nothing. … Love is patient, love is kind. … It bears all things, believes all things, hopes all things, endures all things. … At present I know partially; then I shall know fully, as I am fully known. So faith, hope, love remain, these three; but the greatest of these is love.
This Sunday's mass readings are brilliant illustrations of all three of humanity's most important virtues—faith, hope and love. In them, we can understand why God demands their full measure from us. If we humans invest true faith and hope into our relationships with each other, God becomes the perfect and total embodiment of Love among us.
The first reading from the book of Kings (1 Kgs 17:10-16) tells of Elijah's encounter with a widow at the entrance to the city of Zarephath. He asks her for some bread and water for sustenance, but she and her son are obviously struggling to scrape these staples together for themselves, as she told Elijah she was about to do.
"Do not be afraid. Go and do as you propose. But first make me a little cake and bring it to me. Then you can prepare something for yourself and your son."
That demand took a lot of chutzpah on his part, but fulfilling it required a lot of faith on hers. Her all-in faith was rewarded.
"The jar of flour did not go empty, nor the jug of oil run dry," we are told.
The faith of that widow saved her and her son. Many of us who hope for such salvation from God have put our faith in God's Son to deliver it—once and for all, as the second reading from the Book of Hebrews tells us (Heb 9:24-28):
Just as it is appointed that human beings die once, and after this the judgment, so also Christ, offered once to take away the sins of many, will appear a second time, not to take away sin but to bring salvation to those who eagerly await him.
That hope for salvation is based on our faith. But as Paul said, faith without love is nothing. And in Sunday's gospel reading, Jesus introduces us to yet another widow willing to give all she has to help people she doesn't know—this time depending on the Temple treasury to invest her coins of love as needed (Mk 12:41-44).
"Amen, I say to you, this poor widow put in more than all the other contributors to the treasury," Jesus says. "For they have all contributed from their surplus wealth, but she, from her poverty, has contributed all she had, her whole livelihood."
All or nothing at all. Half a love between people means none to God. There can be no in-between between us. Let's pray for the wisdom, strength and courage to spend our lives blowing our full allotment of love on each other in the faith and hope it leads to a world without end.
–Tom Andel
Now enjoy the song that became a big hit for Sinatra before most of us were born: