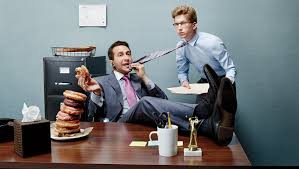 It's too easy to be a jerk. Being joyful is too difficult. Jerks abound in difficult times, when resources are slim and "every man for himself" is not only a survival strategy but a philosophy. The miracle of Christmas is the discovery that joy blossoms in difficult times as well as good ones. People tend to open their hearts to strangers they might otherwise ignore. What do they find hidden inside their own open heart? Joy. Our hearts come pre-loaded with it at birth, but over time they can rust shut for lack of use.  We then forget about the treasure trapped inside. Sunday's gospel offers us a KISS as a reminder: Keep it Simple, Stupid. Finding joy is a simple matter of doing what we know is right—and avoiding the wrong—no matter the circumstances. This Sunday's gospel reading (Lk 3:10-18) offers free advice from John the Baptist. He delivers it by hitting us over the head with the obvious.
The crowds asked John the Baptist, "What should we do?" He said to them in reply, "Whoever has two cloaks should share with the person who has none. And whoever has food should do likewise." Even tax collectors came to be baptized and they said to him, "Teacher, what should we do?" He answered them, "Stop collecting more than what is prescribed." Soldiers also asked him, "And what is it that we should do?" He told them, "Do not practice extortion, do not falsely accuse anyone, and be satisfied with your wages."
More simply put, "Be the decent human being God created you to be, dummy!" If everyone did that, we might get the feeling that Jesus is still living among us. What a great feeling to have at Christmas time. This season is filled with songs shouting Emanuel—a name meant to bring glad tidings of comfort and joy. It translates to "God with us," and Sunday's first reading from the prophet Zephaniah (Zep 3:14-18a)  tells us why we shouldn't fear the jerks who need constant reminders about not being a jerk.
The LORD has removed the judgment against you; he has turned away your enemies; the King of Israel, the LORD, is in your midst, you have no further misfortune to fear.
And if the jerk we fear is within us, Sunday's second reading from Paul's letter to the Philippians (Phil 4:4-7) reminds us that protection from our inner jerk is just a prayer away:
Your kindness should be known to all. The Lord is near. Have no anxiety at all, but in everything, by prayer and petition, with thanksgiving, make your requests known to God. Then the peace of God that surpasses all understanding will guard your hearts and minds in Christ Jesus.
That brings to mind another great song that, although not catalogued as a Christmas song, is a rich source of joy to the world:
"Let there be peace on earth and let it begin with me."
–Tom Andel
Now enjoy that feeling, courtesy of the Harlem Boys' Choir:
https://www.youtube.com/watch?annotation_id=annotation_1960179231&feature=iv&src_vid=vXFeeJ6LSMc&v=x-djRRFxOMk