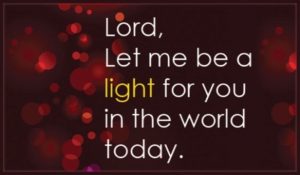 Pomp and Circumstance won't be what's remembered most about George H.W. Bush's funeral. The moments without them will. Those were the ones recalling Bush the human, not the commander-in-chief. The human side is the one who asked us to join our fellow men and women in bringing light into darkness. Being one of thousands of points of light requires emptying our soul of ourselves and making room for God's light to fill the void. That requires the assent of the free will that identifies us as his children. Christ's mother Mary was the supreme example of that. Her divine motherhood was a role that required her "Yes."  This Sunday's gospel reading (Lk 1:39-45) lets us sit in on the heart-to-heart conversation between Mary and her confidant Elizabeth. This is Elizabeth's prayer of thanks for Mary's "yes":
Blessed are you who believed that what was spoken to you by the Lord would be fulfilled."
Mary delivered into the world the light that brought us out of darkness. Carrying that light forward requires our assent. Once given, we then do as Mary did: empty ourselves of ego and let God use us as he will. By doing so, we become as humble as the site of Christ's birth. As Sunday's first reading reminds us (Mi 5:1-4a), what started out as a barely-mapped town became the birthplace of salvation:
You, Bethlehem-Ephrathah, too small to be among the clans of Judah, from you shall come forth for me one who is to be ruler in Israel; whose origin is from of old,
That ruler doesn't expect us to follow legal recipes in order to earn the salvation he offers. It is his gift to us. Our only requirement is to be like Mary and accept it with an open heart. Once we do, we are consecrated as one point of the light source that can do nothing else but help others find their way out of darkness. Sunday's second reading from Paul's letter to the Hebrews (Heb 10:5-10) reminds us what God doesn't want from us.
"Sacrifices and offerings, holocausts and sin offerings, you neither desired nor delighted in." These are offered according to the law. Then he says: Behold, I come to do your will." He takes away the first to establish the second. By this "will," we have been consecrated through the offering of the body of Jesus Christ once for all.
In choosing to become a point of the Godly light Mary brought into the world through Jesus, we play a role in shepherding others out of darkness and into a state of peace. And by imitating Christ, we become the peace for which so many pray to God, as our first reading concludes:
his greatness shall reach to the ends of the earth; he shall be peace.
–Tom Andel