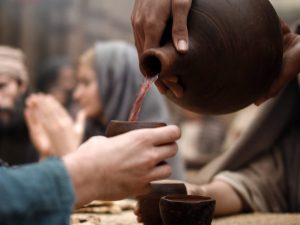 A sense of humor is one of the unsung gifts of the Holy Spirit. It's the secret to a long marriage and a long life. This gift helped the Jewish people survive and fight persecution throughout history. Some of the 20th century's greatest humorists and playwrights were raised in the same faith Jesus was. That's why I think Jesus must have had quite a sense of humor. You have to see it between the lines of scripture, but look at his first miracle. He turned water into wine at a wedding. Weddings are notorious for two emotional behaviors. They begin with intense expressions of love and conclude with extreme drunkenness at the reception. The help at these events have their fair share of stories that they tell like jokes. Sunday's gospel can be read like one of those.
Imagine Jesus hearing his mother's instructions to the help at the Cana wedding–"do whatever he tells you"—and using her orders as an excuse to have some fun with the drunks at the reception (Jn 2:1-11).
Now there were six stone water jars there for Jewish ceremonial washings, each holding twenty to thirty gallons. Jesus told them, "Fill the jars with water." So they filled them to the brim. Then he told them, "Draw some out now and take it to the headwaiter." So they took it. And when the headwaiter tasted the water that had become wine, without knowing where it came from — although the servers who had drawn the water knew —the headwaiter called the bridegroom and said to him, "Everyone serves good wine first, and then when people have drunk freely, an inferior one; but you have kept the good wine until now."
The joke might have been on the servers too. Imagine them going back to the well after the reception to collect more of this delicious wine to sell on the streets. If they were like today's marketing professionals they might have branded it "Cana Winter, the fusion of wine and water."
The first reading from Isaiah (Is 62:1-5) is dead serious in fusing wedding imagery into prophesy to illustrate the coming reconciliation of God with the beloved bride who walked out on him. Jerusalem would one day be the site of Christ's torture and death, but for Isaiah, Jerusalem represents the hope of a return to the scene of a wedding.
No more shall people call you "Forsaken," or your land "Desolate," but you shall be called "My Delight," and your land "Espoused." For the LORD delights in you and makes your land his spouse. As a young man marries a virgin, your Builder shall marry you; and as a bridegroom rejoices in his bride so shall your God rejoice in you.
Of course in scripture, where there's a wedding, there must be wine—and Isaiah doesn't disappoint (IS 62:8-9):
No more will I give your grain as food to your enemies; nor shall foreigners drink the wine, for which you toiled. But those who harvest shall eat, and praise the LORD; those who gather shall drink in my holy courts.
Joy is the promise and hope of Isaiah. It is God's gift, bestowed by His son. His son gave his earthly life to bring it about, but he constantly sends the Spirit to us so that we will continue his work to spread salvation. That gift manifests itself in many ways, shining through the prism of humanity. Paul describes the variety of ways joy spreads through our collective spirit (1 Cor 12:4-11):
To each individual the manifestation of the Spirit is given for some benefit. To one is given through the Spirit the expression of wisdom; to another, the expression of knowledge according to the same Spirit; to another, faith by the same Spirit; to another, gifts of healing by the one Spirit; to another, mighty deeds; to another, prophecy; to another, discernment of spirits; to another, varieties of tongues; to another, interpretation of tongues. But one and the same Spirit produces all of these, distributing them individually to each person as he wishes.
Humor isn't listed here as one of these spiritual gifts, but it is as fused with these gifts as it is with the gift of Christ's first miracle in Cana. People who take themselves too seriously can't know joy.
–Tom Andel
Nobody demonstrated the connection between wisdom and joy better than Bishop Fulton J. Sheen, who used our pagan God, TV, as his vehicle for powerful teaching. Let's conclude with a fun appearance by Sheen on the old quiz show "What's My Line." Note that as he signs in on the What's My Line chalkboard, he maintains his tradition of beginning whatever he writes with JMJ: Jesus, Mary and Joseph. He then goes on to prove that non-profits can make the best prophets on TV: