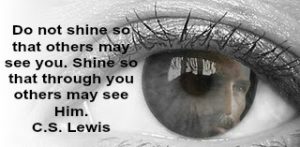 The scriptures show that some of Jesus's followers—both friends and enemies—could recognize him anywhere. That is evident in this Sunday's readings, especially among those categorizing themselves in the latter camp—the ones who followed him to death. As the Gospel of John tells us (Jn 21:1-19), his best friends—his disciples—didn't even recognize the presence of the risen servant Jesus until he showed them the best place to catch fish and offered them breakfast from their catch. Then they caught on.
And none of the disciples dared to ask him, "Who are you?" because they realized it was the Lord. Jesus came over and took the bread and gave it to them, and in like manner the fish. This was now the third time Jesus was revealed to his disciples after being raised from the dead.
Teachings seem to come in threes between Jesus and his disciples. Peter denied three times that he knew his Master and Jesus asked Peter three times if he loved him, and upon hearing the affirmative replies, asked him to continue the job of tending us, his sheep.
Our first reading shows that Jesus' enemies—the ones who killed him—recognized him easily in the substance of his disciples' teachings (Acts 5:27-32, 40b-41). Those disciples were, therefore, extensions of him and worthy of expulsion—or worse, as implied by Sunday's first reading:
The Sanhedrin ordered the apostles to stop speaking in the name of Jesus, and dismissed them. So they left the presence of the Sanhedrin, rejoicing that they had been found worthy to suffer dishonor for the sake of the name.
But it's Jesus' favorite disciple, whom many believe was John, who knows his Master best. He would be privy to the same level of knowledge that always has, does now, and ever will be shared with those invited to join him in fellowship (Rev 5:11-14):
I, John, looked and heard the voices of many angels who surrounded the throne and the living creatures and the elders. They were countless in number, and they cried out in a loud voice: "Worthy is the Lamb that was slain to receive power and riches, wisdom and strength, honor and glory and blessing."
The hope of Easter is that we recognize Jesus within us as easily as the Master's self-professed enemies recognized Him in the very first disciples.
–Tom Andel