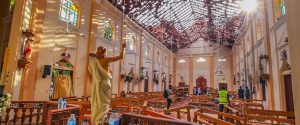 Before attending Easter Sunday services a few weeks ago, Sri Lanka was probably not on the mental maps of many American Christians. That changed after a series of terrorist suicide bombings killed hundreds of people of many faiths and nationalities at various places on that South Asian island. Many were fellow worshippers at Easter Sunday church services. Survivors at one of the targeted sites, St. Anthony's Shrine, a Roman Catholic Church in Colombo, told a New York Times reporter they saw "a river of blood." Islamic terrorists took "credit" for this carnage.
It will be hard for many Catholics to forget this news account as they gather this fourth Sunday of Easter in churches around the world to read St. John's testimony about seeing hundreds of worshippers who were desperate for the saving grace of the blood shed by one person (Rev 7:9, 14b-17).
I, John, had a vision of a great multitude, which no one could count, from every nation, race, people, and tongue. They stood before the throne and before the Lamb, wearing white robes and holding palm branches in their hands. Then one of the elders said to me, "These are the ones who have survived the time of great distress; they have washed their robes and made them white in the blood of the Lamb.
Terrorism is certainly contributing to our era's times of great distress, just as interfaith squabbling after Christ's death and resurrection made the lives of early Christians difficult, to say the least. Sunday's first reading (Acts 13:14, 43-52) puts us in the skin of Paul and Barnabas, Christianity's pioneer reporters of the good news, and we can imagine hearing Christ's voice as it dares us to live The Word as bravely as they did in those distressing times:
"I have made you a light to the Gentiles, that you may be an instrument of salvation to the ends of the earth."
Let's close with Sunday's gospel reading (Jn 10:27-30), in which John recalls the eternal power source of that light. During these times of technology-enabled global terrorism, John's gospel is a comforting reminder that our security doesn't depend on cyber- or electro- anything:
Jesus said: "My sheep hear my voice; I know them, and they follow me. I give them eternal life, and they shall never perish. No one can take them out of my hand. My Father, who has given them to me, is greater than all, and no one can take them out of the Father's hand. The Father and I are one."
The same one of whom we ask "…deliver us from evil. Amen."
–Tom Andel