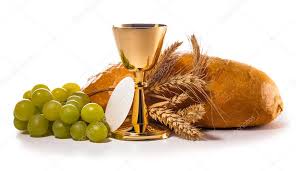 (For the audio version of this blog, please visit: http://brothersinchristcmf.org/wp-content/uploads/2021/08/Mass-Blog-for-the-19th-Sunday-in-Ordinary-time-2021.mp3)
In Biblical times, a pandemic would cause famine and many would starve to death for lack of sustenance. The 21st century pandemic we're living through has caused many in the developed world to GAIN weight because food became more of a boredom-driven vice than a survival-driven necessity.
In the Bible itself, food is often equated with fuel that enabled mission fulfillment. In the first of this Sunday's readings (1 Kgs 19:4-8), for example, the Prophet Elijah is exhausted from spreading God's word while fighting off enemies who wanted to kill him for that. But God won't let him off the hook and forces him to eat cake.
Elijah prayed for death saying: "This is enough, O LORD! Take my life, for I am no better than my fathers." … but then an angel touched him and ordered him to get up and eat. Elijah looked and there at his head was a hearth cake and a jug of water. … "Get up and eat, else the journey will be too long for you!"
In today's world you wouldn't have to ask twice to get many people to eat a whole cake. But what about a piece of bread? The pandemic caused many to stay away from those sacred places where eating bread provides the fuel to keep faith alive. As Paul reminds us in Sunday's second reading (Eph 4:30—5:2), Christ "handed himself over for us as a sacrificial offering" so we could "be imitators of God, as beloved children, and live in love."
In John's gospel (Jn 6:41-51), Jesus reminds us that while our ancestors ate manna in the desert, but died nevertheless, "I am the living bread that came down from heaven; whoever eats this bread will live forever."
That's a hard message for us moderns to swallow in regular times, but during the peak of this pandemic, while people were forced to stay away from "the bread of life," many got used to that famine. The question among church hierarchy is, will people continue coming back to church as the pandemic continues to pass?
Paradoxically, some high-profile Catholics in public life inspired a debate among that same hierarchy about whether political support for abortion rights should deprive public officials of the privilege to receive the bread of life as they join the faithful in resuming their Mass attendance.
Why would someone who wallows in the controversy of their pro-choice views insist on maintaining that pro-life privilege? Where the bread of life is concerned, are they eating it to live or to make a living off eating it? Or have they convinced themselves their pro-choice orthodoxy is as orthodox as being pro-life when it comes to the life Christ sacrificed for THEM?
Eating to live may be coming back among the faithful, but the most important question is, how many will come back to life?
–Tom Andel
POSTSCRIPT
The Plain Dealer ran an AP article on President Biden's appointments to a commission ostensibly charged with fighting for religious freedom. The article made it seem like Biden's appointments were more political than faith-based. Although the issue of anti-Semitism is important and high on the list of priorities, I HAD to fire off a letter to the editor about another human rights issue that seems to be going unaddressed: the right to life. They just published it on the PD's Letters site. Since the topic is related to what's covered in this blog, I thought I'd share it here as an addendum. I welcome everyone's input.
https://www.cleveland.com/letters/2021/08/story-on-biden-picks-for-four-key-religious-freedom-roles-failed-to-assess-role-of-all-faiths.html