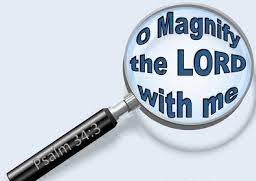 (For the audio version of this blog, please visit: http://brothersinchristcmf.org/wp-content/uploads/2022/05/Mass-Blog-for-the-6th-Sunday-of-Easter-2022.mp3)
Between pandemics and wars alone, fear seems to be consuming the world. The Methodist church on our city's public square recently noted that trend on its messaging sign with a simple "Psalms 34:4."
Readers looking that one up will find this:
"Magnify the LORD with me; and let us exalt his name together.
Doing so in a fearful world marked by borders separating us by language, culture, nationality and belief system is an ancient challenge. Many of our borders were inspired by fear of human differences, which is why the common denominator of Jesus's ministry was love. Paradoxically, claiming kingship of that kingdom led to his crucifixion. Following their master's death, his disciples continued their mission, constantly and courageously crossing fear's borders.
As we read in Acts this Sunday (Acts 15:1-2, 22-29), many hiding behind those borders while clinging to the comforts of the Mosaic laws under which their persecuted ancestors survived saw Jesus's good news of universal grace as a threat. They were taught, "Unless you are circumcised according to the Mosaic practice, you cannot be saved." The disciples had to walk that fine borderline carefully so they could gradually dispel the fear of human borders:
"It is the decision of the Holy Spirit and of us not to place on you any burden beyond these necessities, namely, to abstain from meat sacrificed to idols, from blood, from meats of strangled animals, and from unlawful marriage. If you keep free of these, you will be doing what is right."
Then we read in the Book of Revelation about the vision of a borderless world supported by a spiritual infrastructure (Rev 21:10-14, 22-23): "I saw no temple in the city for its temple is the Lord God almighty and the Lamb. The city had no need of sun or moon to shine on it, for the glory of God gave it light, and its lamp was the Lamb."
How many times did Jesus advise, "Do not be afraid"? It was among the last things he told his disciples (Jn 14:23-29): "Peace I leave with you; my peace I give to you. Not as the world gives do I give it to you. Do not let your hearts be troubled or afraid. You heard me tell you, 'I am going away and I will come back to you.'"
Preparing his way back to us in a way he'll be visible around the world will require an unbounded multiplication of humanity's magnification levels so we can see his love among us.
–Tom Andel