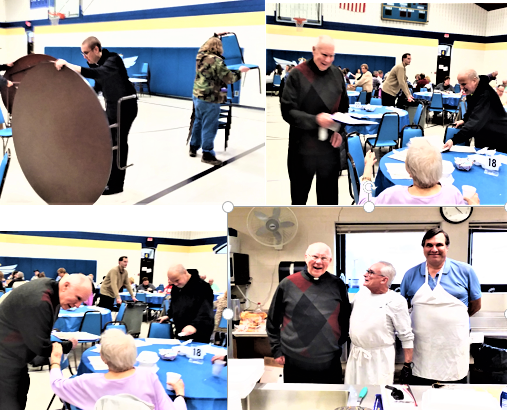 (For the audio version of this blog, please visit: http://brothersinchristcmf.org/wp-content/uploads/2023/04/Mass-Blog-for-the-Fifth-Sunday-of-Easter-2023.mp3)
During the Fridays of Lent leading up to Easter, the priests of our parish did their best NOT to imitate the way Jesus' apostles reacted to the news they received as reported in this Sunday's first reading (Acts 6:1-7). In the account from Acts we read this fifth Sunday of Easter, the twelve are told that some in their community were being missed in "the daily distribution" of goods and services.
What did the 12 say when told some of the people they were trying to include in their ministry felt they were being excluded? To paraphrase,
"It is not right for us to neglect the word of God to serve at table. Appoint seven reputable men to this practice while we preach."
Our priests didn't delegate in response to similar news during our parish fish frys. They delivered at all of them.
A church fish fry is a valid representation of that ancient community as reflected in this account from Acts. Fathers Tom and Matt could have just circulated among the 35 tables each Friday at ours and schmoozed while the bare-bones volunteer staff managed by Gary Mann did their best to keep up with growing demand for service. Instead, they rolled up their sleeves and not only served at table, but bussed them and put them away, as well. Schmoozing and preaching weren't neglected either, but the point is, service comes in all forms and all are equally worthy to offer up.
Service is the cornerstone of any church. It is God's Word in action. It is a model for corporations with stockholders, too. The smartest manufacturing CEOs realize that without service they are just commodity peddlers. That cornerstone of good business is rejected for a cheaper alternative at any CEO's peril—"a stone that will make people stumble, and a rock that will make them fall," as Peter explains this Sunday (1 Pt 2:4-9). He suggests that we:
"Come to him, a living stone, rejected by human beings but chosen and precious in the sight of God, and, like living stones, let yourselves be built into a spiritual house."
All pastors and congregations of such houses are called to model Christ, as exemplified by a good church fish fry. This Lent Fathers Matt and Tom, and all good faith leaders, took the opportunity to model for us what Jesus said before his ascension in this Sunday's gospel reading (Jn 14:1-12):
"Whoever believes in me will do the works that I do, and will do greater ones than these, because I am going to the Father."
And the Father comes to us in service to one another.
–Tom Andel